How to get involved in HydroSOS
Where is HydroSOS currently focusing its efforts?
Since its establishment in 2016, HydroSOS has been focusing on a number of key areas, including:
Undertaking pilot basin projects to build shared capability, with a current focus on South Asia and the Lake Victoria Basin and a demonstration of how products can be integrated into a web-based platform. Moreover, we are looking to assess the viability of HydroSOS under different regional contexts and designing regional and global implementation plans.
Assessing the viability of integrating different national, regional and global modelling efforts into a blended outlook product.
Collecting methodologies from products on status and outlooks to provide best practices to WMO Member countries.
Main activity streams to build the global HydroSOS
At present, HydroSOS experts represent National Meteorological and Hydrological Services (NMHSs), from 20 countries, research/scientific institutions, international organizations and, the community of WMO Regional Hydrological Advisers who have provided inputs to the initiative. These experts are working as part of small task teams to advance a series of interconnected activity streams that are building different parts of HydroSOS.
Common technical specificationsIncreasing the interoperability of hydrological status and outlook products
Guidance on methods and toolsIncreasing national capabilities to generate hydrological status and outlook products
Regional pilotsIncreasing shared production of transboundary hydrological status and outlooks products
Co-design of global productsIncreasing the utility of large-scale hydrological status and outlook modelling
Integration and disseminationIntegration of hydrological status and outlook products for national, regional and global users
The HydroSOS timeline
The infographic shows the current expectation for the development of HydroSOS, however, it is important to note that specific and individual plans will be developed for each national or regional implementation to fit local needs.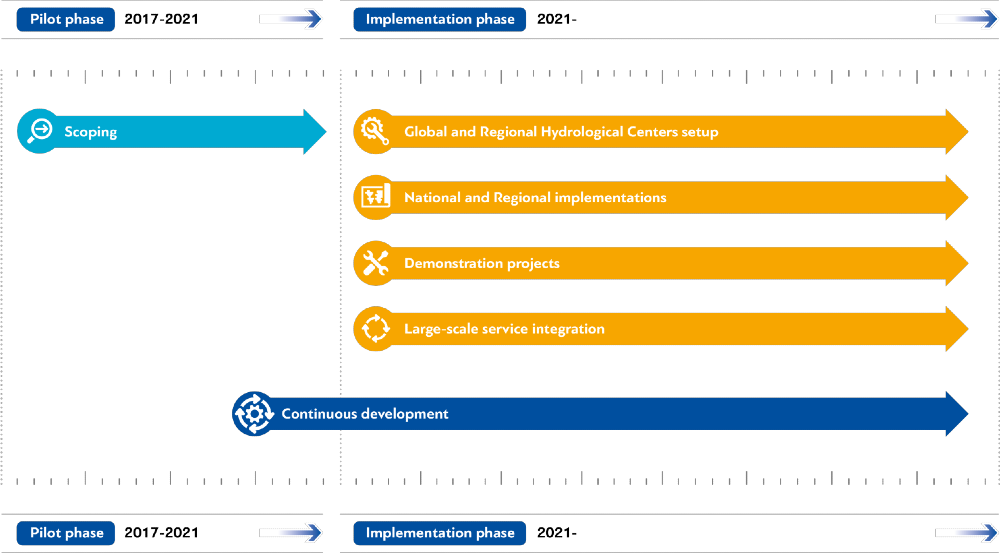 Pilot phase - 2017-2021:
Implementation phase - 2021 onwards:
Global and regional hydrological centres setup.
National and regional implementations.
Demonstration projects.
Large-scale service integration.
Continuous development from 2017 onwards.
How to get involved
We welcome experts to join us in our efforts and we are particularly seeking:
Those who can help link existing tools and methods based on local and regional specifications. Experts with an interest and capability to develop tailored Standard Operational Procedures for HydroSOS.
Experts from national and regional organisations who can help with the capacity and needs assessments and development of the implementation plans.
Global modellers to help develop the approaches for integrating the products identified with local data.
National and regional data inputs are sought to help develop a HydroSOS information platform.
Case studies on assessing the skill of hydrological models in specific countries/regions are sought.
Applying HydroSOS methodologies to river basins.